Conference Venue
NH Prague Hotel **** (in upper executive hotel building)
Meeting room Brussels 1 (fully equipped and recently renovated conference room with natural daylight and Internet connection]
Mozartova 261/1
Prague 5 Smichov
Czech Republic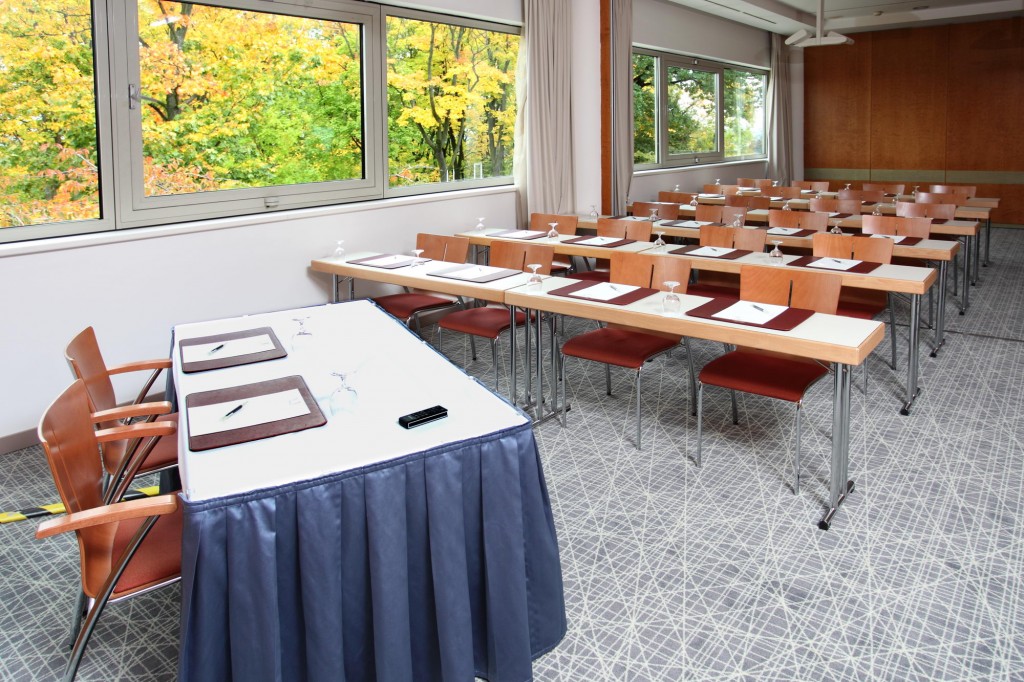 The four star NH Prague hotel is the two-complex hotel connected by a unique "Lanovka" inclined Cable Car built in 1996 by Doppelmayr Seilbahnen GmbH with length 156 m. (It is 256 meters height above see level, maximum speed: 2,5 m/s (9 km/h), time: 1,5 minute one way, capacity: 12 persons, vertical distance: 50,5 m.)
Conveniently located in Prague 5 Smichov close to the the historic city centre and at the same time, easy access to the airport.
Directions from the airport by car:
From the airport, follow the signs towards the city center. Drive down Evropska street. After 8 km, turn right towards Smichov and go through the tunnel. At the end of the tunnel, you will see the NH Prague straight ahead of you. You may park your car in the hotel garage.
Directions from the airport by public transport:
Take bus number 100 to Zlicin station, then take subway line B to Andel station. From Andel, go straight and cross the intersection, where you will see the NH Prague on your left-hand side.
Cost: 32 CZK (40 CZK if ticket bough from the driver, please have a small change ready)
Prague public transport web page www.dpp.cz/en/.
By taxi:
The price from the airport is approx. 20 Eur and could be confirmed in taxi booths in the arrival hall.
If you have any problems with transport, please contact Milena Zeithamlová from Action M Agency (mobile: +420 602 324 951).
About Prague
Prague is the capital and largest city of the Czech Republic. It's situated on the Vltava River. Prague is also home to many world-famous cultural attractions (e.g. Prague Castle, the Charles Bridge, Old Town Square or Petřín Hill). Prague is served by Václav Havel Airport (formerly Prague Ruzyně International Airport), the biggest airport in the Czech Republic and one of the busiest in Europe.
More information about Prague (transport, famous places, events, food) you can find on http://www.praguewelcome.cz/en/ or http://www.praguecityline.com/.
About the Czech Republic
Detailed information about the Czech Republic, a landlocked country in Central Europe, you can find on http://www.czech.cz/en.